Our impressive fleet of wedding limos will help make your fairytale wedding a reality with Xtreme Transportation and our exceptional personalized service. We understand how important your wedding day is to you. From choosing the right car to rolling out the red carpet, we take care of all the magical touches.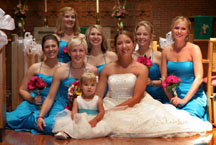 Xtreme has several different wedding limos packages to choose from.  We do pick up and drop offs, hourly, or will even customize a package to accommodate your needs.
You can start your day off right with an early trip to the salon with your bridesmaids. After your hair and make up, head back to put on your gown. While you are busy getting ready, the limousine will pick up the groom and groomsmen, take them to the ceremony to wait for your arrival. The wedding limos will return to take you to the moment you have been waiting for.
Once the wedding ceremony is over, the limo will be available to you and your spouse for the photo shoot. Then, on to the reception where the party begins! Once, the reception is over, the limousine will return to take you and your spouse to your chosen destination.
The dream is yours. We'll help you make it come true!
Wedding Transportation
You should hire your car company and book your wedding limos about six months before the date of your wedding. Which means that as soon as you have settled on your wedding date and the kind of ceremony you want, and on your reception sites and wedding party size, that's the time to start thinking of booking your limo.
But be careful: if your wedding is going to take place in the springtime (anywhere from April to June), then you should book your limo not six months before the date of your wedding but at least nine (9) months. That's because springtime is prom season, and during prom season the demand for limo services explodes. Prom attendees reserve almost all available services, prices start to skyrocket, and many bridal parties are left without any viable limo service options.